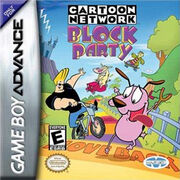 Cartoon Network: Block Party is an arcade-style video game for Game Boy Advance developed by Majesco and released in the United States on August 5, 2004 and in Europe and Oceania on September 15, 2004. Cartoon Network: Block Party had a very long development cycle: it began development in 2004 as a Nintendo Game Cube, then to the PlayStation 2, Nintendo Game Cube, and finally to the Game Boy Advance. It features characters from Cartoon Network original animated series such as Johnny Bravo, Ed Edd n Eddy, Courage the Cowardly Dog, and Cow and Chicken.
See also
Ad blocker interference detected!
Wikia is a free-to-use site that makes money from advertising. We have a modified experience for viewers using ad blockers

Wikia is not accessible if you've made further modifications. Remove the custom ad blocker rule(s) and the page will load as expected.