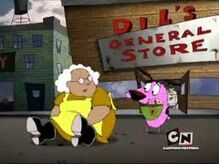 Dil's General Store is a shop in Nowhere where the Bagges buy their groceries. Jean Bon runs its butcher market. Its namesake comes from series creator, John R. Dilworth. The store's interior is only seen in the episodes Curtain of Cruelty and King of Flan.
Ad blocker interference detected!
Wikia is a free-to-use site that makes money from advertising. We have a modified experience for viewers using ad blockers

Wikia is not accessible if you've made further modifications. Remove the custom ad blocker rule(s) and the page will load as expected.