Mr. Nasty is a character from Angry Nasty People. He is the epitome of all of Eustace Bagge's nastiness. He starred in The Angry Nasty People show. He left the show when Benton Tarantella found a new star, Courage. Mr. Nasty went on to create his own talk-show with Eustace, who he swindled out of 95% of the profits.
Appearance
Mr. Nasty looks identical to Eustace except that he wears black-lens glasses and emits a dark blue glow. He looks like Eustace was possesed by another demon, not The Mattress Demon. His glasses look like sunglasses and his dark blue suit looks like Muriel hasn't washed them for a year. See McPhearson Phantom Ghost.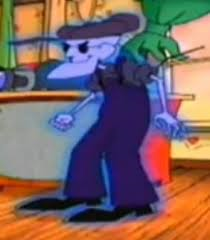 Ad blocker interference detected!
Wikia is a free-to-use site that makes money from advertising. We have a modified experience for viewers using ad blockers

Wikia is not accessible if you've made further modifications. Remove the custom ad blocker rule(s) and the page will load as expected.