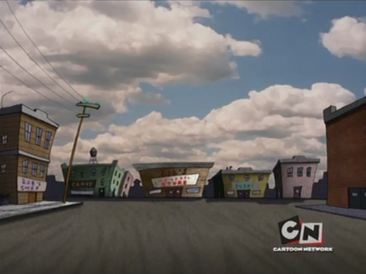 Nowhere is a fictional town in the state of Kansas that Courage and majority of the cast live in (and where most episodes take place).
It has its own newspaper, which Eustace is often seen reading.
There is also a park in Nowhere.
List of Nowhere in being trouble
Nowhere has been attacked several times in the show. The first time, it was attacked by the tower of Doctor Zalost. The second time, Nowhere fell victim to Curtain of Cruelty, making everyone nasty and mean. The third time, a huge part of Nowhere was destroyed by one of the teddies. The citizens of Nowhere have also been brainwashed by the King of Flan, making them crazy for flan. In A Beaver's Tale, Nowhere has been flooded completely, thanks to the beavers' dam. In Muted Muriel, Nowhere was destroyed by a giant starfish.
In other languages
Arabic - لامكان
Hebrew - שום מקום
Norwegian - Ødeby
Danish - Intetsted
European Spanish - Quimismo
Latin Spanish - Ningún lugar
Polish - Nigdzie
Italian - Altrove
Romanian - Nicăieri
European French - Nulle Part
Dutch - Nergens
Portuguese Brazilian - Lugar Nenhum
Swedish - Ingenstad
Ad blocker interference detected!
Wikia is a free-to-use site that makes money from advertising. We have a modified experience for viewers using ad blockers

Wikia is not accessible if you've made further modifications. Remove the custom ad blocker rule(s) and the page will load as expected.