The Nowhere Movie Theater is probably Nowhere's only movie theater. The Bagges (especially Eustace) have been shown to be frequent visitors. Some movies that were seen in the series were:
An untitled Action movie. (Freaky Fred)
2. An untitled Western movie. (The Curse of Shirley)
3.
"1001 Dilmatians"
(
Angry Nasty People
)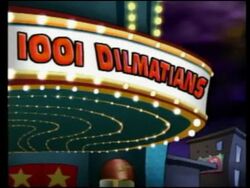 4. "Return the Book" (Wrath of the Librarian)
Ad blocker interference detected!
Wikia is a free-to-use site that makes money from advertising. We have a modified experience for viewers using ad blockers

Wikia is not accessible if you've made further modifications. Remove the custom ad blocker rule(s) and the page will load as expected.