Smart Talk with Raisin is the 1st pilot of Courage the Cowardly Dog that aired on MTV's Liquid Television.
Plot
It starts off in an apartment building's room where Hamilton is trying to pull a malade out of his magic hat, but Malcolm interrupts by making fun of Hamilton multiple times. So Raisin tells the audience that Malcolm should've gone to Therapy. After that Hamilton finally pulls a malade out of his magic hat, then Raisin gets picked up by a UFO beam, which pans up to a place where a chair that looks like Earth with Raisin sitting on it, the episode ends.
Characters
Heroes
Villains
Watch Episode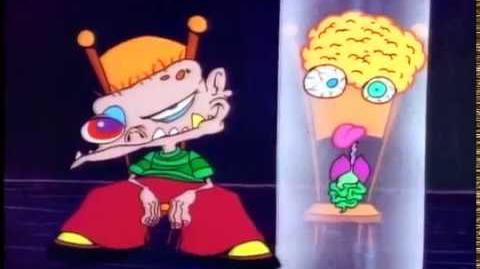 Trivia
This episode marks the only appearance of Hamilton, the prototype of Courage.
This pilot episode aired as a segment of Liquid Television.
On Wet Shorts, the Best of Liquid Television, the Stretch Films logo is cut out.
Gallery
Ad blocker interference detected!
Wikia is a free-to-use site that makes money from advertising. We have a modified experience for viewers using ad blockers

Wikia is not accessible if you've made further modifications. Remove the custom ad blocker rule(s) and the page will load as expected.