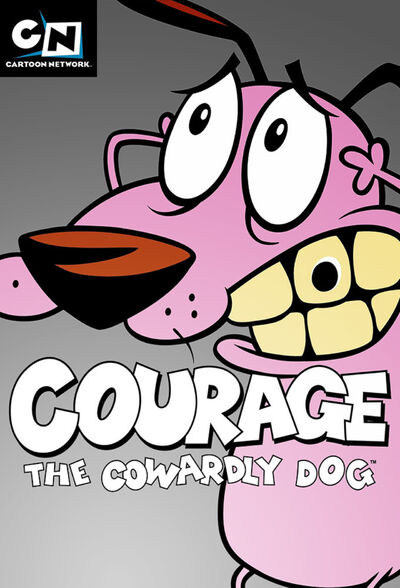 Original music featured in
Courage the Cowardly Dog
was composed by Jody Gray. Certain episodes contain classical music from famous composers such as Mozart and Beethoven. Below are a few known tracks and their titles.
Original tracks
"Courage the Cowardly Dog" — Opening Theme
"Courage the Cowardly Dog" — Closing theme
"The Man in Gauze" — Used in King Ramses' Curse, McPhearson Phantom and 1000 Years of Courage
"Freaky Fred" — Used in Freaky Fred
"The Banana Song" — Used in 1000 Years of Courage
"C'mon Baby Gimme Life" — Used in Courage Meets the Mummy
"Carmina Miranda" — Used in Courage Meets Bigfoot
"It's Doc Gerbil's World" — Used in Human Habitrail
"Bridge Over the River Quack" — Used in Dr. Le Quack, Amnesia Specialist, Le Quack Balloon and Nowhere TV.
"The Tower Of Dr. Zalost" — Used in The Tower of Dr. Zalost
"You Freeze Up My Life" — Used in Snowman's Revenge
''Eustace''- Used in various episodes
''Muriel''- Used in various episodes
Tracks from other composers
Night of the Weremole — A little night music by Mozart
Journey to the Center of Nowhere — "Ride of the Valkries" by Richard Wagner
Mission to the Sun — "The Blue Danube" by Johann Strauss II
Mega Muriel the Magnificent — "Ode to joy" by Beethoven
Farmer-Hunter, Farmer-Hunted — "In the Hall of the Mountain King" by Edvard Grieg
Son of the Chicken from Outer Space — "William Tell Overture: Final" by Rossini
The Gods Must Be Goosey — G-minor symphony by Mozart. Also a short excerpt from "Ride of the Valkries" by Wagner
Courage the Fly — "Flight of the Bumblebee" by Rimski Korsakov
Campsite of Terror — "Morning" by Edvard Grieg
McPhearson Phantom — Liebestraum no.3 by Franz Liszt
Serpent of Evil River — "Habanera" from the Opera Carmen by Bizet
So in Louvre are we two --- "Autumn" from the Four Seasons by Vivaldi
Dome of Doom — "Dance of the Reed Pipes" from the Nutcracker by Tchaikovsky
Other Songs
''Courage the Cowardly Dog'' by They Might Be Giants
''Duo'' ( Katz' Theme) by Florence Caillon
''Hope She Ain't Late'' ( The Uncommon Cold Theme) by Samuel Dan
''The Humming Bird'' (Di Lung's Theme) from the album '''MX-112 : Sounds Of The World Vol.2''
''Adventure Tag'' (Suspense theme first used in ''Courage Meets Bigfoot'') from the album '' ''MX 165: The Promo Collection Vol.5''
''Noveau Rituel''- Eden ( Music that plays in the waterfall scene in ''Human Habitrail'')
Ad blocker interference detected!
Wikia is a free-to-use site that makes money from advertising. We have a modified experience for viewers using ad blockers

Wikia is not accessible if you've made further modifications. Remove the custom ad blocker rule(s) and the page will load as expected.