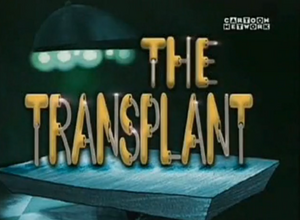 The Transplant
is the ninth episode of
Season One
, and the twenty-second episode in total. It first aired on April 17, 2001. It follows
Serpent of Evil River
.
Plot Outline
When Eustace gets into an accident and requires a spinal transplant, a fossilized bone is used that mutates him into a kangaroo monster.
Trivia
First appearance of the Kangaroo Monster.
Returning appearances of Professor Frith, Dr. Vindaloo and Le Quack.
The Chicken from Outer Space cameos in the Kangaroo Monster video.
Features an ad for "Dilly Drops", named after creator John R. Dilworth (see gallery below)
When Eustace and Courage are transformed into the form of kangaroos, they have pouches, and Muriel is seen being carried in Eustace's as if she were a joey. This is rather ironic since only female kangaroos have pouches which can carry their joeys.
Ad blocker interference detected!
Wikia is a free-to-use site that makes money from advertising. We have a modified experience for viewers using ad blockers

Wikia is not accessible if you've made further modifications. Remove the custom ad blocker rule(s) and the page will load as expected.